'Stars of Tomorrow in Concert': TCU Opera's season finale
TCU Opera concluded its 2022-23 season Saturday, April 22, with a show featuring every member of the TCU Opera studio.

The show was called "Stars of Tomorrow in Concert" and consisted of musical scenes from famous operas and musical theatre works, such as "La Traviata," "Les Misérables" and "West Side Story."

Caleb Gottry

According to the director's program note, several opera companies and training programs have used this concept of the concert TCU Opera performed. TCU Opera, however, utilized more student input in the process of creating their show.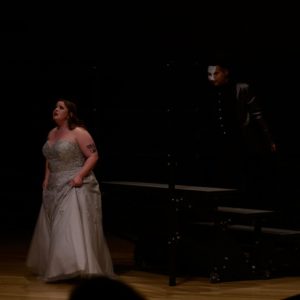 "I asked them to send me three of their dream scenes in opera and musical theatre, and then whatever overlapped, we found pieces that they really wanted to do," said Corey Trahan, Director of TCU Opera.
The 2022-23 season was Trahan's first season as director, and he said he is proud of how TCU Opera has continued to flourish because of its hardworking students.
Saturday's performance took place in the Van Cliburn Concert Hall and had a minimal set, with just a few benches and risers on the stage that were never moved. The costumes were formal but also fitting for the roles.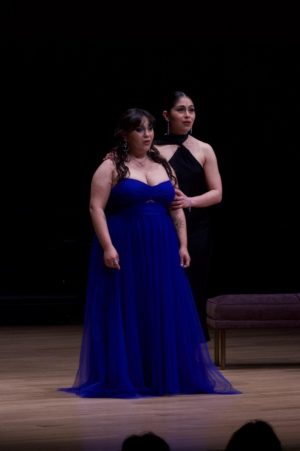 There were over 100 people in the audience, including many members of TCU Silver Frogs, TCU's extended education program for people over 50-years-old. TCU Opera has been intentionally building a relationship with TCU Silver Frogs over the past season. There was a reception after the performance for the singers to meet with the audience members. 
The performance itself was vocally impressive and well-received, but it wasn't without its share of difficulties in the preparation process. In the days leading up to the show, tenor John Dubois became ill. Singers Jordan Riek and Faith Adams learned Dubois's parts and filled in for the performance.
For the students, "Stars of Tomorrow in Concert" was a great experience, singing music they might one day sing in a professional setting. For tenor master's student Wonjin Choi, opera expresses the core of human emotion. 
"It's 200-300 years old, but it is still very impressive for people now," Choi said. "That is the reason I love opera."
Choi was joined by fellow tenor master's student David Mejia to sing a famous Puccini duet as an encore that earned a standing ovation.
TCU Opera has already planned next season's shows and hopes to do another performance like the one last Saturday.