Alex Wainwright is a junior marketing major, but she doubles as a world-class competitor in Karate.
Her online calendar is full of practice, trips to the campus rec center for conditioning and, of course, classes.
She drives to Plano to practice three or four times per week, which is about an hour commute from campus.
She squeezes classes in there somewhere, but makes sure "they don't interrupt with my training routine."
That routine is preparing her for the 2023 Pan American Games, a competition that pits the top athletes from North, Central and South America against each other. The games feature athletes from 41 nations competing in 39 sports.
Wainwright will represent Team USA in karate.
Competing on an international stage is impressive enough, despite the rough road she took to get there.
Wainwright was born with hip dysplasia, so the ball-and-socket joint of her hip didn't form completely. It was an unexpected hurdle that threatened her career.
"I didn't realize I had it until I couldn't walk after practice," she said.
To make things worse, Wainwright had a labral tear, so the muscles in both hips were torn. The five-time Junior National Team Member wasn't sure when she would compete again.
"There were times when I didn't think I was going to do karate again," said Wainwright.
In January of 2020, she had her first surgery. She had a second in May of the same year. The surgeries put her out of competition for over a year, but getting back on the mat wasn't her main concern, at the time. She had the operations so close together, being able to move, normally, almost felt out of reach, especially with the start of college looming.
"It was such a quick turnaround, but I needed to learn how to walk again," said Wainwright. "It was very draining, mentally and physically."
Last month, the hard work paid off. Wainwright traveled to Las Vegas to compete in two international competitions. She won gold at the U.S.A. Open, topping the podium over competitors from the United States, Canada and Colombia.
Next was the North America Cup. She proved her dominance, despite still having four screws in each hip.
"I competed at the North America Cup and I won first place, so that qualified me for [the Pan American Games]," said Wainwright.
At the Pan-Am Games, she'll compete against the top-8 athletes from North, Central and South America.
Before she goes to Santiago, Chile for the Pan-Am Games, she will represent Team USA at the 2023 PKF Senior Championships in San Jose, Costa Rica. The tournament will last from May 26-28. It's more than just an individual event. Last year, the U.S. topped the medal table with seven medals, including four golds. Wainwright hopes to add to that before she goes to Chile.
"Being able to represent Team USA has been everything to me," she said. "It's such a big honor."
Wainwright's work ethic brought her to where she is today, but she finds time to relax and enjoy the experience when she isn't focused on business.
"I love getting to travel, it's one of my favorite parts of competing at such a high level," said Wainwright. "I love getting to say I went to Vegas or Europe or somewhere to do something I love."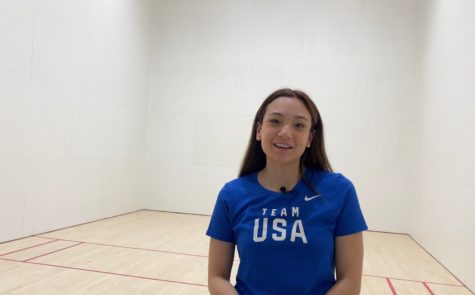 Her favorite place to compete, she said, was France.
The road to recovery was long and testing, but Wainwright stuck with it. She gave thanks to her friends and parents, who stayed by her side the whole time.
Wainwright is also involved in greek life on campus. She is apart of the Gamma Phi Beta sorority.
"Making time for my friends while balancing everything else has been really important," she said. "I'm really just managing everything day-by-day."
Wainwright doesn't compete for any sports associated with TCU, so her training schedule and dedication is all by her own self-discipline.
Wainwright's next competition is the 2023 PKF Senior Championships from May 26-28. After that is the 2023 Pan-American Games from October 20-November 5. Karate will be held from November 3-5 and will be aired on ESPN and ESPN 2.