An organization at TCU wants to establish a program to provide free menstrual products in all female and gender-neutral bathrooms in academic buildings. 
Ignite is a feminist student group focused on female empowerment within the political sphere. The group has also partnered with TCU's Gender Resource Office to form the initiative. 
"Menstrual hygiene is necessary for equal opportunity in education," said Ignite President Isabella Marrin, a senior political science and Spanish double major. "We believe that university campuses are in a unique position to provide care to their student populations through universal access to period products in all restrooms."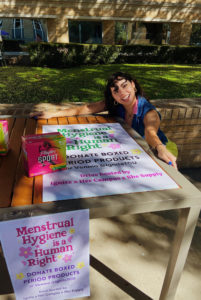 Ignite and the Gender Resource Office have a plan that seeks to implement a program similar to Aunt Flow. It would install easy-to-use period product dispensers and sanitary disposal units in academic buildings across campus, said Marrin. Texas A&M currently partners with Aunt Flow to provide free period products to campuses, according to the company's website. 
TCU currently provides free period products in both the Intercultural Center and the Sid Richardson Building restrooms. However, the possibility of expanding access to more bathrooms has received positive feedback from students, said Peyton Spangler, a student advocate for the Gender Resource Office. 
"Students have expressed a need for this initiative and we've gathered over 400 signatures on our petition thus far," said Spangler, a junior social work and women and gender studies double major. 
Based on data from Aunt Flow, Marrin expects the initiative to cost 10 to 20 dollars per menstruating student per year. She said, however, that the recent law banning the so-called "tampon tax" in Texas may reduce costs.
"We are very happy that the tampon tax is no longer in Texas," she said. "This will make the products overall more affordable for TCU to purchase for students." 
Ignite and the Gender Resource Office are currently gathering more data about the exact cost to implement the initiative. Spangler said they are also looking at student support for the proposal and student demand for period products across campus. 
For now, Ignite is encouraging students to promote the initiative, said Anneliese Gil, the head of civic engagement for Ignite. 
"Right now, we need to show TCU that students support this initiative," she said. "We ask that students spread the word about our initiative and sign our petition." 
Marrin expects the organization to present a detailed cost breakdown of the proposed program and a summary of student support to TCU administrative officials toward the end of 2023.
View this post on Instagram