TCU vs. SMU football game
The main event of the weekend will take place at 11 a.m. on Saturday, Sept. 23, when the Horned Frogs take on the SMU Mustangs for the 102nd "Battle for the Iron Skillet." The yearly tradition will pause after the 2025 season. 
"Packing the stadium is absolutely essential for a successful family weekend," said junior Dutchmen Andrew Meier. "The players really feed off of our energy so it is our duty and privilege to pack the Carter."
Don't forget to attend the pre-game party in Frog Alley sponsored by TCU. The event begins at 8 a.m. on Stadium Drive. 
Catch live music or a cattle drive at the Fort Worth Stockyards
The Fort Worth Stockyards National Historic District is always buzzing with activities.
"The Stockyards are a great place to experience Texas culture you can't find anywhere else. They are a big part of what makes Fort Worth, Fort Worth," senior nursing major Hollan Borowitz said.
At 10 p.m. on Friday, Sept. 22, Southall Band will take the stage at Billy Bob's Texas. The doors will open at 6 p.m., with Keith Mitchell Band opening at 8 p.m. Tickets for the pit cost $30 and general admission tickets are $20.
The Stockyards also host a cattle drive twice daily at 11:30 a.m. and 4 p.m. According to the Stockyards website, the best place to view the drive is from the sidewalks in front of the Livestock Exchange Building located at 131 E. Exchange Ave.
Places to eat
There are an abundance of restaurants and places to eat in Fort Worth. Here are a few of our favorites. 
If you are heading to the Stockyards, visit Joe T. Garcias, a Fort Worth staple that has been open since 1935. The restaurant serves Mexican food and their famous margaritas. There is a large garden patio area as well as indoor seating. 
For brunch, Yogi's deli and grill is a less pricey, casual yet delicious spot. Yogi's was voted best bagels in Fort Worth by Fort Worth Foodie. 
If you are looking for an on-campus classic and one of the best burgers in town, visit Dutch's Hamburgers located on TCU's campus.
Visit the Fort Worth Water Gardens
The Fort Worth Water Gardens are located in the Sundance Square and downtown region of Fort Worth. The gardens include three major water attractions: the Quiet Pool, Aerated Pool and Active Pool.
The sound of water makes for a peaceful outdoor adventure, not to mention the great photo opportunities.
TCU-sponsored family weekend events
In addition to the off-campus activities that Fort Worth has to offer, there are many TCU-sponsored events taking place. Just a few examples include free Rec Center guest access on Friday and Sunday, an official welcome center and reception from 2 p.m. to 5 p.m. Friday in the Brown-Lupton University Union, and a multitude of open house and tailgate events hosted by different programs.
For a full list of TCU-sponsored family weekend events, visit https://familyweekend.tcu.edu/2023-schedule-of-events/. 
Courtside Kitchen
Get active with your family at Courtside Kitchen, the go-to spot in Fort Worth for pickleball, food and drinks. 
"My family and I frequently visit this location, it is one of my favorites. The food there is great as well, I would 100% recommend it," said Ally Ramsey, junior musical theatre major.
Courts can be reserved ahead of time.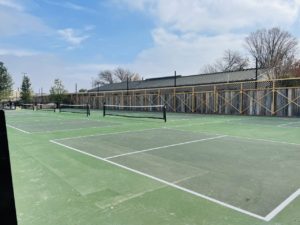 Live music in Sundance Square
If you are looking to explore downtown Fort Worth, attend live music performances from 7 p.m. to 10 p.m. at Sundance Square Plaza.
On Thursday, Davy Mooney will perform. Friday features the Herald Huertas, and Sundance Square Cars and Culture will take the stage on Saturday. Tony Palos Latin Jazz Trio will close the weekend on Sunday.