The TCU hair donation drive was started with the hope of empowering students to be better leaders, not just at TCU but in the world around us.
Andre Giammattei will host the third annual TCU hair donation drive on Thursday from 3-5 p.m. outside the Brown-Lupton University Union, where participants can donate their hair to support children and young adults with hair loss. 
"It's slowly becoming something that I'm very proud of, and an initiative that I think helps a lot of students bring joy to others and an opportunity to empower them," Giammattei said. 
TCU students and faculty who sign up commit to donating eight inches of hair on the day of the drive; walk-ups will also be accepted.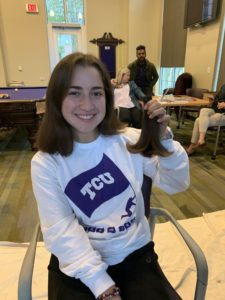 Giammattei is working with stylists from Vanguard Hair Studio, who volunteer their time and skills to cut and style participants' hair. The hair will be donated to the non-profit organization, Children with Hair Loss, which provides human hair wigs at no cost to individuals with medical-related hair loss.
Giammattei said he chose this organization because it accepts all types of hair, including  bleached and colored hair. 
"We want to be as inclusive as possible," Giammattei said. "A lot of times, students think that they can't donate hair because it has been chemically treated, but this organization gives them the opportunity to do so."
Giammattei graduated from TCU in 2022 and is going on his second year as a hall director as he works on his master's degree in higher education. With the support of Housing and Residence Life, Giammattei intends to continue to grow the drive, hoping to surpass last year's 16 hair donations.
This year, he is raffling prizes like a Kendra Scott necklace, Stanley cup, and TCU beaded purse strap to incentivize students to participate as he realizes it is a big commitment. 
"I understand hair is a big part of who you are," Giammattei said. "And that's exactly why we want to be able to help these children, because they don't have the opportunity to have that hair."
Giammattei got the hair donation drive idea from his cousin, who hosted one in their community growing up. However, it wasn't until about five years ago, when he lost a childhood friend to cancer, that he was inspired to contribute to the cause.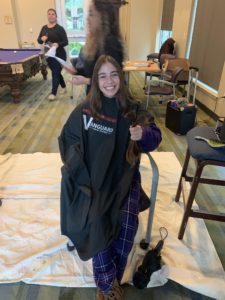 "I thought this would be a really cool way, within the TCU community, to be able to bring people together and have people contribute to this cause in a way that would be honoring to him," Giammattei said. 
He said the most challenging part of the hair drive is getting people to show up. He encourages those considering donating their hair to measure the eight inches themselves, as they might be surprised at how little that is. Using the width of a piece of copy paper is an easy way to measure.
"It's just a very fulfilling experience to continue to work in the community that I've been a part of for so long," Giammattei said. "It's just very much a full circle moment and something that brings me a lot of joy and allows me to tap into my passion for helping others."