Exotic animals, such as a kangaroo, a fennec fox, a bearcat and a lemur, were on campus last week as part of an effort to support students in recovery.
TCU's Substance Use & Recovery Services (SURS) held an exotic petting zoo event "Recovery is Wild" on Sept. 21 in front of Jarvis Hall. The event was a part of Recovery Awareness Month activities.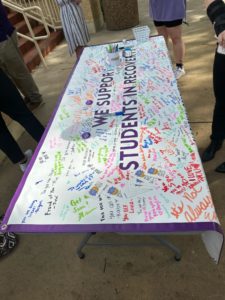 "We want students who are in recovery or even considering recovery to know that their peers are both thinking of them and supporting them in their journey to change their relationship with drugs and alcohol," said Joe LeConte, a SURS counselor and spokesman for the event.
The SURS office is staffed by licensed professional counselors who offer emotional and mental support for students on campus who are in recovery or know someone in recovery from drugs and alcohol.
"We hear a lot of misconceptions on this campus about drinking alcohol," said LeConte. "One of the big myths that we try to change is that everyone drinks on campus and after collecting data, we know that's not true."
LeConte said that the SURS office wants students who don't engage with alcohol and drugs to know that they're not the only ones and makes it a priority for everyone to feel supported.
"And if a student chooses to seek help changing their relationship to drugs and alcohol, they're not the only one as well," he said.
The SURS office offers students many opportunities for engagement including individual counseling and a peer support community.
"The peer support community is not group therapy but rather for students in recovery run by students in recovery," said LeConte. He adds that professional staff members are present at these meetings to support the students.
"Coming to this event has helped me realize that substance abuse is something we should all be conscious of," senior modern dance major Tianni Robinson said. "Being someone who has an emotional support dog, seeing these animals on campus has created an escape for me as well as other students."
The petting zoo is part of a series of events that the SURS office is doing for the entire month of September to help raise awareness for college students recovering from substance or alcohol use disorders.