Biden administration growing anxious about Iran and Hezbollah
Ever since Hamas' coordinated attack on Israel last week, the Biden administration is becoming concerned that the United States will have to get involved if the scope of the war widens, according to New York Times.
Hamas' attack killed more than 1,300 people, including 29 Americans. The Biden administration has sought to use military and diplomatic options to head off any expansions.
"We can't rule out that Iran would choose to get directly engaged some way," Jake Sullivan, President Biden's national security advisor, said. "We have to prepare for every possible contingency. That's exactly what the president has done."
Taylor Swift's 'Eras Tour' film sets a box office record for concert film earnings
Taylor Swift's "Eras Tour"movie was released Friday and has grossed $96 million dollars at the box office in the United States and Canada, according to CNN Business.
According to AMC, it is also the highest-grossing concert film ever.
The movie premiered at the Grove, a retail and entertainment center in Los Angeles, on Wednesday night.
"It took less than 24 hours for the "Taylor Swift Eras Tour" concert film to shatter AMC's U.S. record for the highest ticket-sales revenue during a single day in AMC's 103-year history," AMC said.
Three injured in shooting at State Fair of Texas
A shooting wounded three people Saturday night at the State Fair of Texas, according to NBC5 DFW.
The entire fair was evacuated and put on lockdown for more than two hours.
Cameron Turner, 22, was identified as the shooter and was arrested shortly after.
Turner was charged with three counts of aggravated assault and has a bond set at $1.5 million, according to CBS Texas.
The fair opened at 2 p.m. Sunday with additional security present.
"We are working with the Dallas Police Department to determine how this weapon got into the State Fair of Texas," State Fair of Texas spokesperson, Karrisa Condoianis said. "Safety is our number one priority out here, and so it's very important that we understand how this happened because we do have very stringent safety measures at all of our gates."
Trump gets limited gag order in Jan. 6 case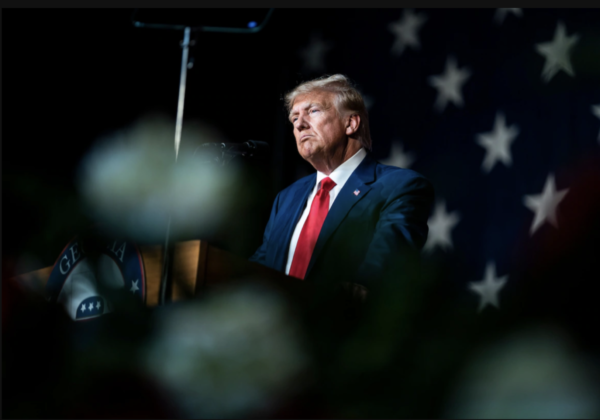 U.S. District Judge Tanya S. Chutkan placed a limited gag order on former U.S. President Donald Trump, according to the Washington Post.
The gag order prohibits all parties in the case from "publicly targeting" special counsel Jack Smith, his staff, Chutkan's staff or "any other court personnel." Statements about the families of those individuals are "absolutely prohibited as well."
Chutkan is also barring Trump and all parties from making statements about witnesses in the case.
Trump "can argue that this prosecution is politically motivated," Chutkan said. "But he cannot disparage the prosecutor by calling him a thug or vilify and implicitly encourage violence against public servants who are simply doing their jobs."