Exclusivity. Passivity. Isolation.
These were the three main topics discussed at the first meeting of the National Association for the Advancement of Colored People (NAACP) TCU chapter. 
Tonight's the night, let's pack the room!!! RT to spread the word #changeTOGETHER pic.twitter.com/kKi3Isa9vP
— TCU NAACP #6822 (@tcu_naacp) April 12, 2018
Sophomore executive member Ali Carter led the meeting to discuss efforts to bring the chapter back to campus.
"We are not going to be sitting around and complaining about stuff on campus," Carter said.
The group discussed efforts to bring awareness to increase students of color. The TCU factbook shows the gap in the number of first-year African American applicants and those that enrolled versus the majority of Caucasian applicants and those enrolled.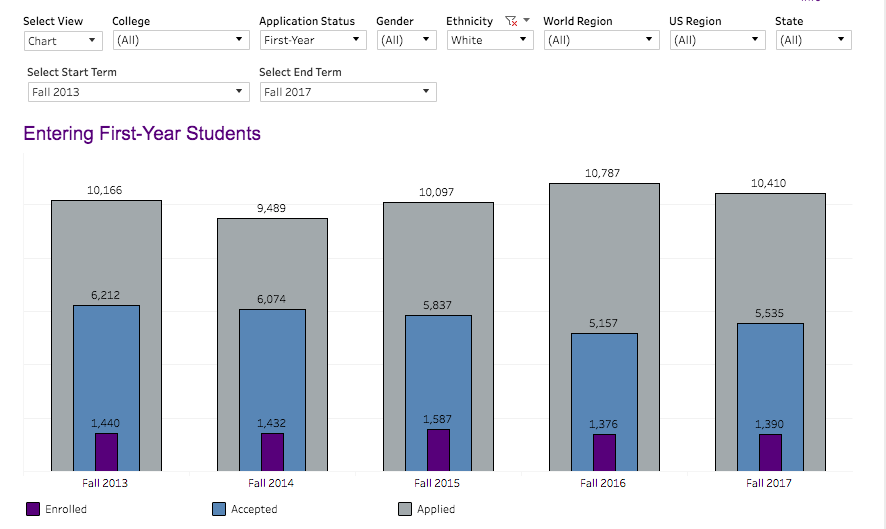 "We are not trying to overshadow any other organizations," said Carter. "We just want to start a dialogue that can one day maybe change the fabric of this campus."
The last time TCU had an active NAACP chapter was in 2015 but it wasn't sustainable. Its presence was really lost in 2010 when a former football player, Tejay Johnson, graduated. During his time, he was able to bring many members to join.
As a first-year student, Johnson said he went to his first NAACP meeting after talking with his mentor who tried to get him involved on campus. He joined and worked his way up in the leadership positions. By his senior year, he was the president of the chapter.
This year's group met the compliance with the national office and reached 25 paid registered members to officially bring the organization back to campus. Johnson said this was one of his goals his last year with the organization.
It's official… the NAACP is coming to TCU!!! We hit the 25 registered members needed to bring the chapter back- check our pinned tweet out and join us #changeTOGETHER 🔥🔥🔥

— TCU NAACP #6822 (@tcu_naacp) April 18, 2018
Similar to this year's dynamic, the chapter during Johnson's time also listened to members' grievances and issues they noticed on campus.
In efforts to bring awareness to campus, a larger project Johnson and members focused on and led as they worked with other campus organizations was a day of justice.
"Justice day at the end of the year was a day when students reflected on the injustices that happened in the year to bring awareness," Johnson said.
The day of justice consisted of a silent march named "Walking Colors" in response to the shooting death of Trayvon Martin and was followed by a candlelight vigil.
Last week, some students expressed the awareness they would like to see the chapter bring to campus.
"So far all the CRES affiliated courses I've taken have been taught by middle-aged white teachers," said junior political science major with a CRES emphasis Whitney Eversole.
She said she would like to see an increase in color in the faculty instead of having professors that share similar experiences. She said these professors could better teach through their different experiences and wider set of knowledge.
"The courses are taught by excellent professors but we're learning about comparative race and ethnic studies by some of the most privileged people in America and when you have a diversity of thought it expands everybody's mindset and learning," Eversole said.
Some students would also like to see faculty of color to be treated better.
"I've seen how some students act towards staff–expecting them to hold doors open for them, expecting them to pick up their trash when they've purposely dropped it on the floor," said Micah Ramos, a junior history major.
Johnson said he hopes the chapter receives a diverse group of members and leaves the newly organized chapter with some advice.
"Be passionate about what you're trying to accomplish within the organization," Johnson said. "You have to really be careful not to make NAACP another black student association."
Elections for leadership positions within the chapter will be held before a conference at the University of Texas at Arlington April 28th.