College is a time for students to explore ideas and concepts, but talking about these newfound beliefs and opinions can be tricky, especially at a holiday dinner table.
Family conversation around news events, politics and religion can quickly erupt into an argument when opinions clash.
"Having conversations surrounding sensitive topics like politics or gun control can be challenging," said Dr. Vaile Wright, director of research and special projects at the American Psychological Association, "Especially if those conversations are with family members."
The problem is; however, that sensitive topics are often what are on people's minds.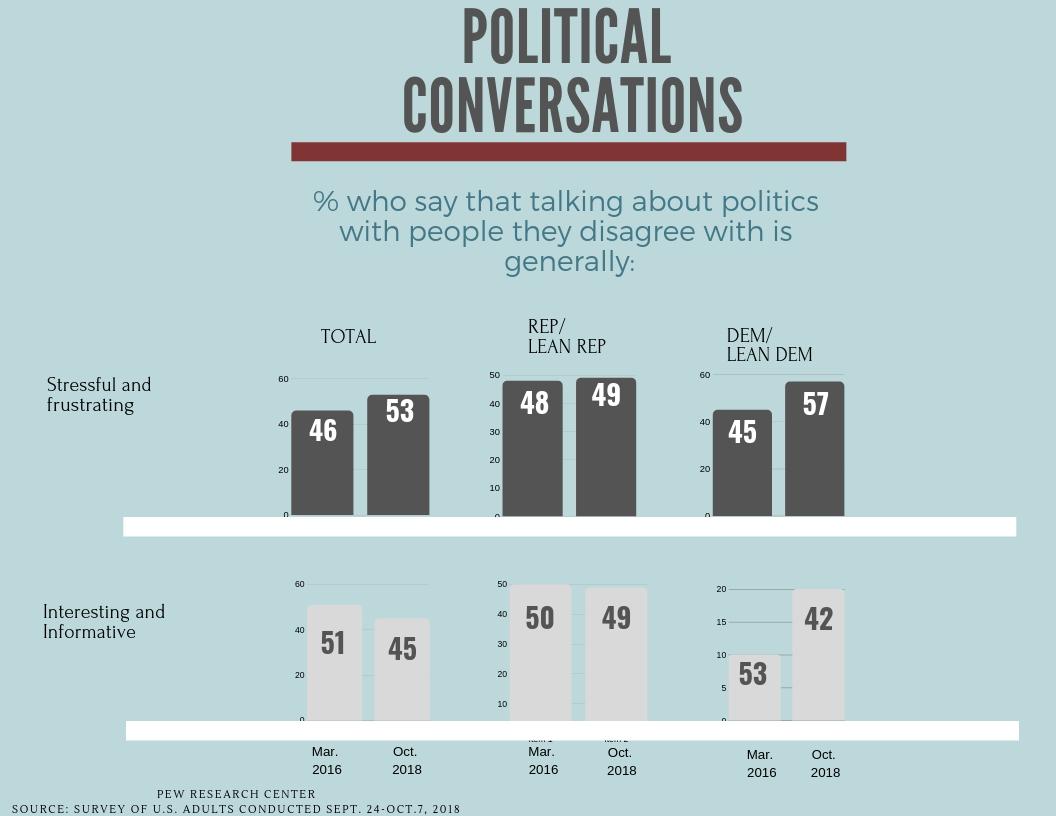 Senior news and media studies major Violet Herzfeld said she doesn't like to remain silent if a topic is important to her.
"If I feel that my perspective is necessary or could be beneficial in a situation, I share it without holding back," Herzfeld said. "When I draw the line on civility it is because they either are implicitly or outright hateful toward any minority group, or their 'opinions' are all based on the memorized rhetoric of political commentators who intentionally say wild things to get their listeners hyped up. I have no respect for that."
Herzfeld said she has had to sever ties in the past with people who had extremely radical and offensive perspectives.
"It is hard for me to look at people I once considered friends who actively support bigoted, racist [or] sexist ideas, policies and leaders," Herzfeld said. "I know some people who are amazing friends on the day-to-day, but outwardly speak about things that are oppressive [or] misogynistic. Those are not people I want on my team at the end of the day, regardless of how they treat me personally."
Senior strategic communication major Danielle Foreman said people should be able to voice opinions without backlash.
"People take politics to heart without hearing the other side out," Foreman said. "If you are not a part of the solution, you are a part of the problem. Not speaking your voice allows those in power to do as they please."
For Lauren Dooley, a senior political science major and officer with the College Republicans, it's not just about party–it's about respect.
"I used to refrain from sharing my political views if I knew they wouldn't be well received by someone who disagreed with me, but there's more power in being able to disagree respectfully than sit in silence," said Dooley.
Wright said there are ways to disagree with someone's viewpoints or beliefs in a constructive way.
"When talking, find areas where you may agree on something. You may find that by doing so, the tension and stress will decrease in the conversation," Wright said.
When it comes to crossing the line between voicing an opinion and being offensive, Wright said there's lots of gray.
"Individuals have a right to voice their opinion and others may or may not find that opinion offensive," Wright said. "Ask yourself — if your opinion was published on the front page of a newspaper, would you be able to stand behind it. Be mindful of the words and tone you are using when voicing your opinion and avoid any polarizing language and personal attacks that would likely offend another person."
For Herzfeld, so long as respect is at the core of every conversation, she believes there is room to agree to disagree.
"To truly discuss politics in a healthy way, we must be open to learning from others," Herzfeld said. "Even if we disagree, I respect others' opinions so long as they are not oppressive, and so long as they have reasoning, logic and considerate thought behind them."
Although many refer to these times as being extremely politically divided, voicing a political opinion is entirely up to each individual.
"Whatever one decides, it's important to be informed and know how you may be impacted by certain political decisions," Wright said. "It is important to remember that everyone has a voice and that they should feel able to speak out if they chose to do so."
If all else fails, Wright said it may be beneficial to suggest another activity to do as a group.
With the holiday season in full swing, it's important to try to find the balance between expressing an opinion and staying respectful — if not, you might just end up with coal in your stocking.