After starting the second half of conference play with a string of three losses, TCU volleyball dominated Iowa State 3-1 (25-15, 25-22, 22-25, 25-14) Saturday. The win was their 12th this season at home in the Rickel, which sold out for the 10th time this year.
"I was impressed by how our team came out today," head coach Jill Kramer said.  "That's been something we've been trying to get better at … executing from the beginning."
After struggling to start well in most of their matches this season, TCU looked strong from the opening serve.  The Cyclones held on for a while, but the Frogs' offense, led by middle blocker Sarah Swanson, was too much for them to handle.  Swanson had four kills in the first set alone, and TCU won easily, 25-15.
Swanson would finish the match with a team-high 14 kills (tied with middle blocker Katie Clark), a team-high 7.0 blocks, and a career-best .667 hitting clip.
"I think getting Swanson going is something we've needed," setter Tori Dilfer said.  "She gets going when she knows that she needs to get going."
Another positive note early for the Frogs had been outside hitter élan McCall's first action in six matches after missing time with an injury.
McCall finished the match with two kills and nine digs.  Her playing time is limited right now until she is fully recovered.
Unable to start the second set as well as the first, the Frogs struggled to stop the Cyclones' offense and fell behind 17-10. The Frogs then used a 6-0 run and strong defensive effort to climb back into the set.  An Anna Walsh kill sealed the win for TCU, giving them a 2-0 lead in the match.
Outside hitter Lexi MacLean had led the Frogs on the defensive with six digs in the set.  She finished with a match-high 18 kills and two service aces.
Despite their deficit, Iowa State started the third set even stronger than the second.  The Frogs' defense couldn't stop the Cyclones' offense, and TCU trailed by seven once again,10-3, early in the set.
Sustained excellence from Swanson and MacLean allowed the Horned Frogs to climb back into the set, but runs by the Cyclones proved too much, and TCU dropped the set 25-22.
Then, Tori Dilfer happened.  The sophomore setter led the Frogs to a resounding 12-0 lead to start the fourth set.  During that span, she had two aces and three assists.
"Momentum-wise it was awesome,"  Dilfer said. "Putting service pressure on them is always a big part of our game."
Dilfer would finish the match with 36 assists, 12 digs, and two kills.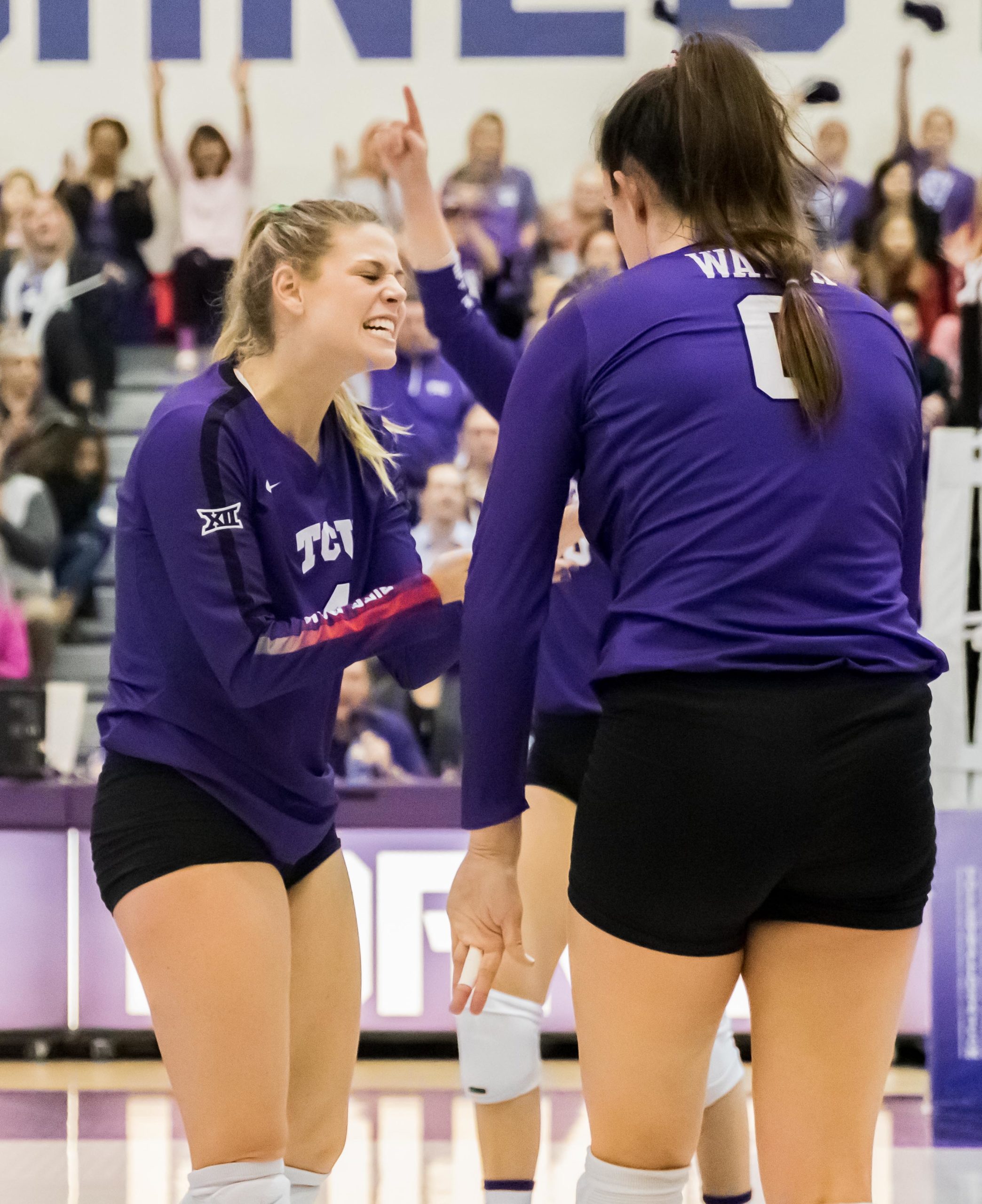 "I thought Tori did a great job running the offense today," Kramer said.  "We needed to distribute the ball a little bit different, and she did a good job of that and then was like so good from the service line."
The early run and five total service aces propelled TCU to an easy 25-14 fourth set win, giving them a 3-1 victory in the match and ending their losing streak.
"Ending a losing streak is huge for confidence," Dilfer said.  "Not that every match before this hasn't mattered just as much, but it all really matters right now."
The Frogs will get their final bye this week, returning to the court Friday, Nov. 9 to play Oklahoma.  First serve in Norman is set for 7 p.m.