#CarterBoys19 fills needs, adds speed to Horned Frogs
The 2019 signing class was typical Gary Patterson: consisting of players that fill needs and likely have more stars from the coaching staff than they do the recruiting rankings.

The team closed the door on the class yesterday with the signing of seven more players, rounding out a group of 29 that includes seven transfers.

The class finished at No. 3 in the Big 12 and No. 33 in the nation and included three four-star prospects.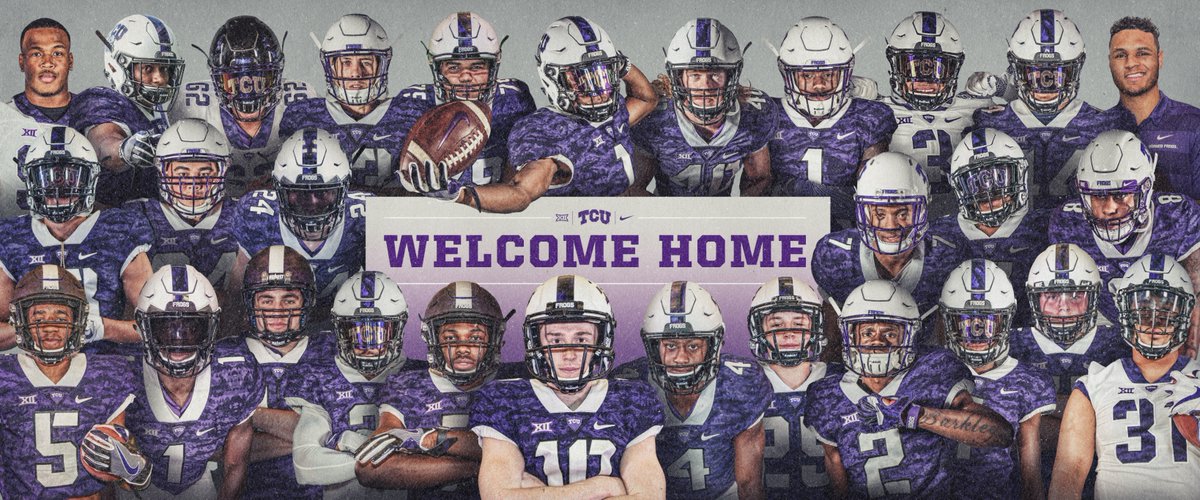 It's a usual TCU class," said Patterson. "Filled needs. Find a couple guys that are kind of surprises. Really happy with the class."

Filling Needs

Patterson said the team was focused on filling needs, specifically at quarterback, defensive line and linebacker.

Graduate transfer quarterback Alex Delton joins the Horned Frogs after four years at Kansas State, where he was voted team captain his senior season despite never being the full-time starter.

"I really liked the things that were said about Alex Delton from what his teammates said: team captain, competitor," Patterson said.

Joining Delton in the class is four-star Max Duggan from Council Bluffs, Iowa. Duggan enrolled this January and was ranked as the No. 5 dual-threat quarterback in the country.

Always defensive-minded under Patterson, the team's 29 new recruits include 18 players on that side of the ball.

Eight of those were on the defensive line, including two transfers.

"We look for speed guys and we look for power guys, we don't look for the same guys at that position," Patterson said of defensive line. "When you play different teams, you need to have different guys on the edges."
Patterson noted the explosiveness of guys like four-star defensive end Karter Johnson.
Was cleaning out my videos and came across this gem! 5 foot platform. 300+ pounds. This kid amazes me! 💜💜💜 pic.twitter.com/wuGvQAU3jP

— Kristina Newman (@KristinaN222) January 18, 2019
As for linebackers, Patterson highlighted Dylan Jordan and Dee Winters as athletic and speed-oriented guys that fit the TCU mold of being safety-linebacker hybrids.

Both Jordan and Winters played running back, safety and linebacker in high school.

"Our kind of linebacker: a guy that can go run," Patterson said.

Garret Wallow and Travin Howard are two of the most recent examples of Patterson products that fit the same mold and became extremely productive in the TCU defense.

Speed
"One of the best speed classes that we've ever recruited when you just look at the whole group," Patterson said of the 2019 class.

Watching these signees' highlights on loop. 🔄 #CarterBoys19

👀: https://t.co/7LVbeMuXz2 pic.twitter.com/1WaSlo8M6E

— TCU Football (@TCUFootball) February 6, 2019
This speed was headlined in the running back position, where the Horned Frogs added two polished recruits.

Four-star Daimarqua Foster is the No. 3 ranked back in Texas and was named the AP Class 4A player of the year during his senior season. Joining Foster is Newton's Darwin Barlow, who helped lead his team to back-to-back state titles.

"We felt like we got two of the best in the state of Texas and in the country with Darwin Barlow and Daimarqua Foster," Patterson said.

Patterson also noted the speed attributes of defensive backs Tony Wallace, Kee'yon Stewart and Tre'Vius Hodges-Tomlinson.

All three are above 160 pounds, giving them a physical advantage along with their speed.

Out of state talent

Three of the team's top four recruits, according to the 247Sports rankings, are from outside of Texas.

Patterson attributed the team's success outside of the state to the program's respect level in places like Iowa, Ohio and Kansas.

"To be honest with you, we have more respect outside the state of Texas than we do in," he said. "If you want to be simple about it. We lose the arms race."

He pointed to the enrollment rates at Texas and Texas A&M, and the fact that almost half of TCU's student body is from outside of the state.

"The respect factor of kids because every day in school they don't have 2000 kids telling them why would you go to TCU?" he said of out-of-state recruits. "I can tell you, you need to come look at our facilities. You need to come see how we play the game."

No matter the state, Patterson will continue to find talent and develop it into productive collegiate and pro players.
The coach has a knack for turning lower ranked players into stars, and he said that this class, like all others, will have some surprises.

The team kicks off the 2019 season against Arkansas Pine-Bluff on Aug. 31.