Equestrian wins twice in South Dakota
No. 7 TCU equestrian (4-4) picked up two blowout wins in Brookings, South Dakota, over the weekend, defeating South Dakota State 13-6 and Minnesota-Crookston 14-2.
First-years Natalia DeVencenty and Izzy Baxter led the way for the Frogs in the first meet, each earning Most Outstanding Performer honors.
Program director Haley Schoolfield has long been excited about the youth on this roster, specifically Devencenty and Baxter.
"Izzy Baxter is a standout as she competes in both hunter seat events (Flat and Fences)," Schoolfield said. "Natalia DeVencenty is another standout who competes in Horsemanship. Each of these athletes have bright futures at TCU."
Baxter earned her third MOP honor with a career-high score of 88 in Equitation over Fences against SDSU. Devencenty won her second MOP and set a personal-best Horsemanship score of 78.5.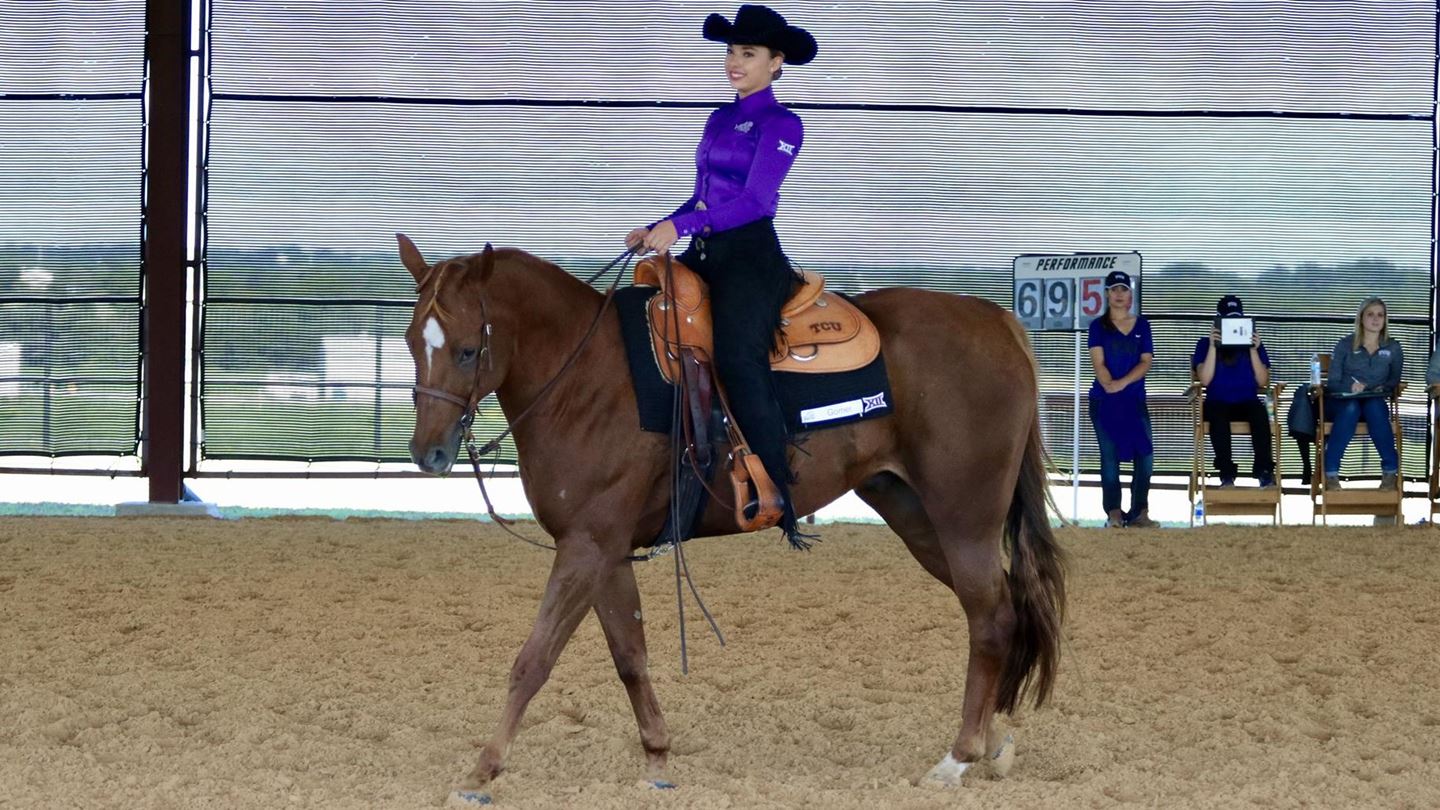 Fellow first-year Bella Andrews also picked up her first career MOP honors with a score of 68.5 and a win in reining.
The first-year students continued to shine in the second meet of the weekend.
Niki Barnes' score of 81 was the highest in Equitation over Fences, earning her MOP honors. Skylar Smith won her first MOP award with a 68.5 score in reining.
Sophomore Ann Hauter and juniors Cydney Benes and Drew Rogers earned the Horsemanship sweep in the meet. Hauter's score of 76 resulted in her first career MOP honor.
"We had solid rides against Minnesota-Crookston, and we tried to challenge ourselves to make improvements from our meet against South Dakota State," Schoolfield said. "It will be a quick turn-around for us now to prepare for UC Davis and Oklahoma State this upcoming week.
The NCEA's newest member, UC Davis, will square off with the Frogs on Thursday in Springtown, Texas; afterward, the Frogs will head to Stillwater, Oklahoma to face Big 12 foe No. 8 OSU on Saturday.