The No. 12 Horned Frogs faced little opposition in their games this weekend, defeating the Rice Owls 7-0 and the No. 11 Illinois Fighting Illini 4-0 in a dominant weekend sweep.

Owls Get Flushed

TCU opened the weekend play with a convincing 7-0 victory, their first shutout win of the season. In NCAA tennis matches, the team who wins four matches first is the official victor, but in some cases the coaches agree to finish out the matches anyway.

After three consecutive doubles losses against Florida, Mississippi State and North Carolina, the Horned Frogs flipped a switch.

The No. 26 nationally-ranked team of senior Reese Stalder and sophomore Bertus Kruger won a close match against the No. 49 doubles team, 7-5. Senior Alex Rybakov and junior Alastair Gray followed with a very quick 6-0 win to clinch.

"I felt the doubles was a good sign," head coach David Roditi said. "I like the way the guys came out: energetic, focused, aggressive."

In singles, every Horned Frog won in straight sets except Stalder, who was down 0-6, 0-3 in the second set but came back to win in three sets.

"Reese is an intellectual player," Roditi said. "Sometimes the intellectual part can be a double-edged sword: it can play against him or for him, and today I think he was overthinking a bit. That was definitely a highlight of today: Reese being able to step back and realize that if he made a couple adjustments the match could change, and it did."

Since his loss against Florida, Rybakov has gone 3-0, leaving his record a team-best 6-1. Two of those wins come against ranked opponents: No. 52 William Blumberg of North Carolina and No. 88 Ewan Moore of Tulane.

"I thought Rybakov's attitude, business-like mentality and being ready for a battle; that's the best I've seen from him," Roditi said. "I would love to see more of that."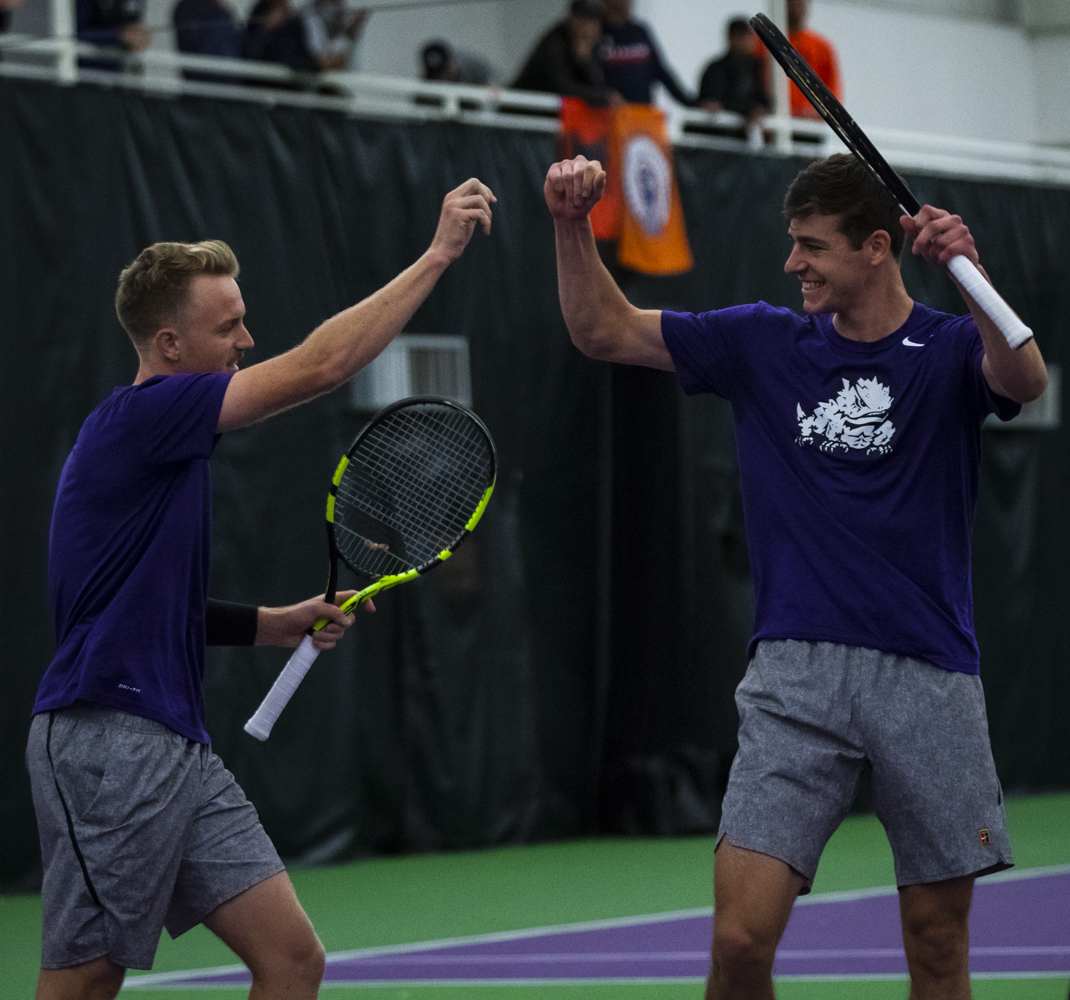 Illini All Out of Fight

TCU dominated No. 11 Illinois, winning 4-0. The Frogs won the doubles point and had singles wins from Gray, Stalder and Fomba.

Doubles play resulted in another strong win, with Rybakov/Gray winning 6-3 and Kruger/Stalder winning 6-2. The Kruger/Stalder duo's win moves them to a team-best 9-3, winning their last four.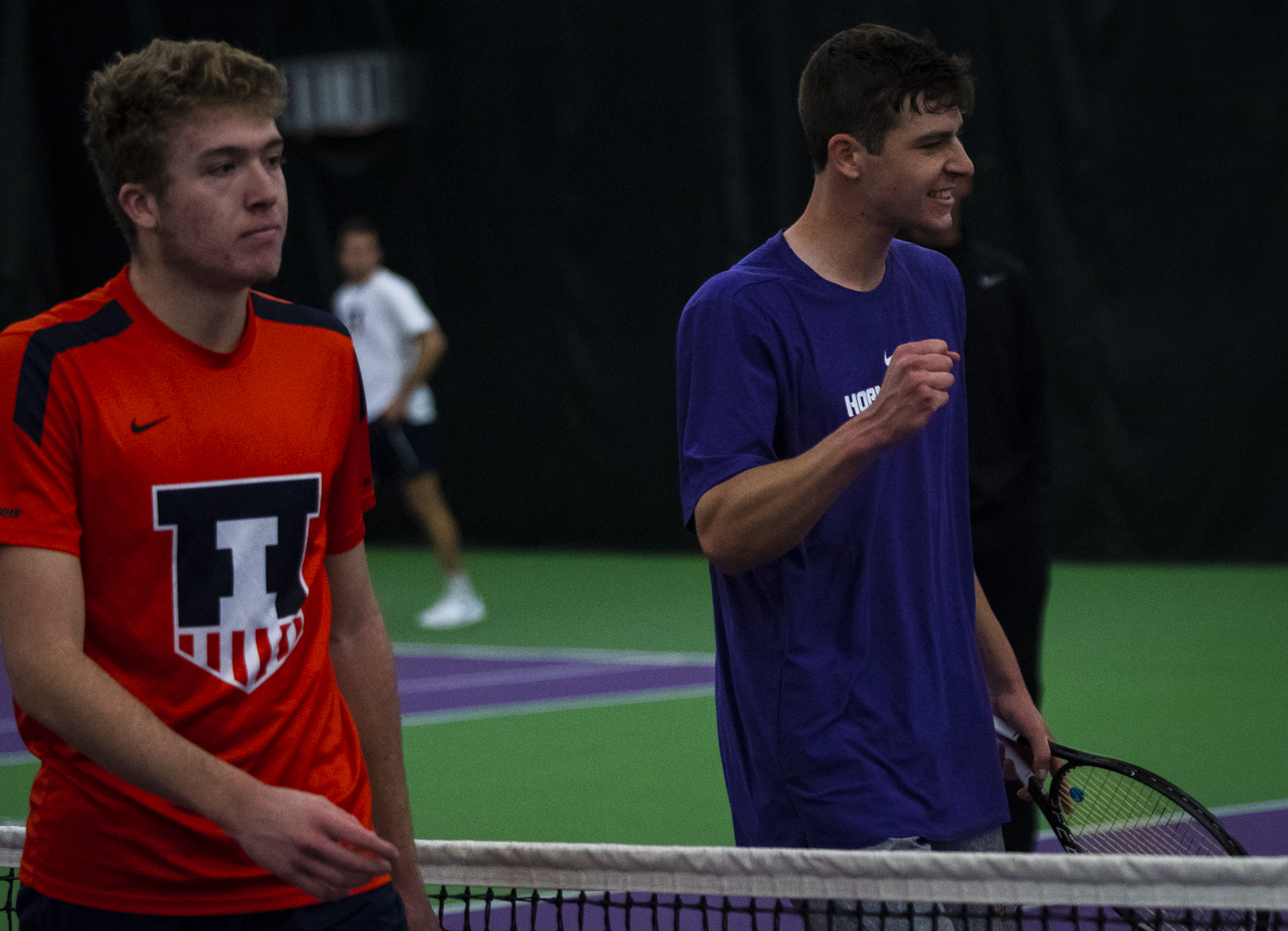 Gray had a moment of redemption against No. 28 Alex Brown, avenging an overwhelming loss in last year's Sweet 16 round of the NCAA tournament. The Brit won in convincing fashion: 6-3, 6-4. This is his fourth singles win in a row, all of which coming in straight sets.

"It shows how far Alastair has come along," Roditi said. "It wasn't a match last year, so it was great to see."

Freshman Luc Fomba continues to impress at the No. 5 singles spot, earning himself a straight-set win over Illinois this weekend, adding to his wins against UCLA, Mississippi State and Florida. His current record is 8-2, 2-0 against ranked opponents.

"He's got a very chill but competitive vibe about him," Roditi said. "He can be very tough to play on these indoor courts. I thought he did a great job of using his power and his serve to win that match."

Difficult Competition Doesn't Faze Frogs

This weekend's wins puts the Frogs at a 9-3 overall record with wins over the No. 3, 7, 11, 20, and 30 ranked teams. Of their 25 matches this season, 16 opponents have been ranked in the top 50 and six in the top 10.

TCU has a home record of 5-1, with its only loss against the No. 4 Florida Gators.

Up Next:
TCU takes on the No. 19 Tennessee Volunteers in Knoxville on March 13 and returns home on March 16 against the Pepperdine Waves.