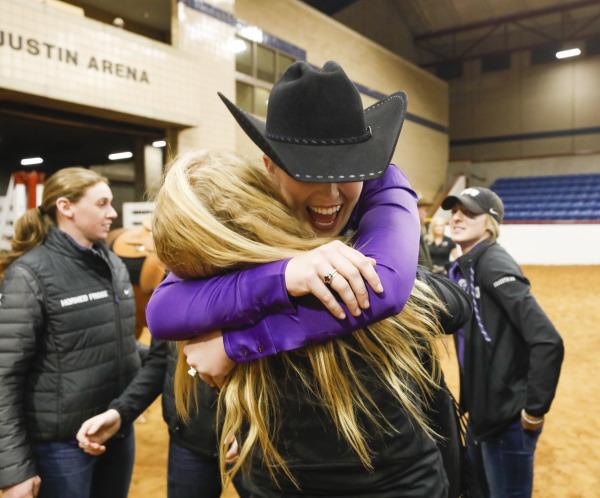 TCU's newest finalist for the Rhodes Scholarship has made an impact on the community by helping others reach their fullest potential.
She never thought she'd be in this position, though.
Laska Anderson, a senior majoring in history and English and minoring in writing, learned about the opportunity to be a Scholar in 2016 when Caylin Moore won the award.
"I never thought that I would be here," Anderson said. "I always thought Rhodes Scholars were people that design non-profits and things like that. I didn't really see myself in that light."
Rhodes Scholars are selected for their scholarly achievement, their character, commitment to others and the common good and for their potential for leadership in all of their potential careers, according to their website.
It's a highly competitive award – over 2,500 students applied across the nation. Anderson is one of 200 finalists.
Anderson is TCU's first finalist since Moore won the award in 2016. Josh Simpson in 2014 and Matthew Freedman in 2006 are other recent finalists from TCU.
"There's a personal statement and it's only 1,000 words, so you have to condense your entire life into 1,000 words and you get 5 to 8 letters of recommendation in addition to a university endorsement," Anderson said.
Only 960 applicants received a university endorsement.
Although she has earned a 4.0 GPA, is taking graduate classes as an undergraduate and works with underprivileged children in the community, Anderson said she didn't think her accomplishments were worthy of a Rhodes Scholarship.
"I would say the thread that holds all of my involvement together is I'm very passionate about helping others reach a platform where they can see opportunities available to them and realize their own confidence," Anderson said.
Anderson, who is also on TCU's equestrian team, has been giving free equestrian lessons to children since she was 13.
However, she has stopped riding because of an illness, but she hasn't left the team. She's spent her time off the horse serving as a student coach to mentor her teammates.
"It's been so cool seeing the other side," Anderson said. "I still feel like I'm just as involved in equestrian, but I'm just not the one going into the arena. I'm still part of prepping our girls to being the best that they can and helping them navigate the life of a student-athlete."
She also coaches under-resourced elementary and middle school children in life skills and volunteers with the Tarrant Area Food Bank Learning Garden to provide nutrition education and adequate food supply to Fort Worth children.
As a peer tutor in the writing center, she helps students expand and polish their ideas, mainly working with students whose second language is English.
"I think that that is my main passion is to be able to help others create a space for them to realize their potential," she said.
On top of that, she has earned almost every possible equestrian accolade – including NCAA Division 1 Rider of the Year in 2018 – and was selected to be an NCAA Elite Equestrian, an award given to one student-athlete at the national championship based upon performance record and highest GPA.
"Laska is an accomplished researcher, a collegiate athlete who has reached the pinnacle of her sport, and a thoughtful citizen who uses her spare time to help people in need. Moreover, she considers history as a form of inquiry, has an uncanny talent for building trust, and possesses the moral force of character necessary to help change our world."

Chancellor Victor Boschini
"What's refreshing about Laksa is her authenticity," said Ron Pitcock, the assistant dean of the Honors College. "The Rhodes Scholarship never served as the motivation for her extraordinary achievements in the classroom, her excellence in the equestrian arena, or her discoveries in international archives. Excellence is the common result of how Laska intensely and thoughtfully pursues educational and athletic endeavors with uncommon maturity and humility."
To her, being a Rhodes Scholar is all about being the best that you can be in everything that you do and seizing all the opportunities that are made available.
But it's not all about her, it's about the people behind the scenes cheering her on.
"My parents are incredible and the coaches I've had here are the most amazing women and my professors who have helped me," Anderson said. "Applying for this award is great but I feel like it's not about me. It's about the people behind me who have helped to shape me."
Anderson hopes to get her doctorate in history and teach at a university in the future. For now, she's preparing for her final interviews with the scholarship committee which she'll have on Saturday.