Fifth annual Drew Medford Memorial Tournament honors former Paschal pitcher, awards 20 scholarships
Twenty scholarships were awarded to local high school baseball players last week at an annual tournament in honor of a former Paschal High School pitcher.
The fifth annual Drew Medford Memorial Baseball Tournament featured 20 local high schools, who played over 49 games in three days.
The tournament is capped off with a scholarship ceremony. Coaches pick one varsity senior player per team who they believe is the most deserving of the scholarship based on sportsmanship, leadership and heart for the game of baseball – all characteristics that were modeled by Drew Medford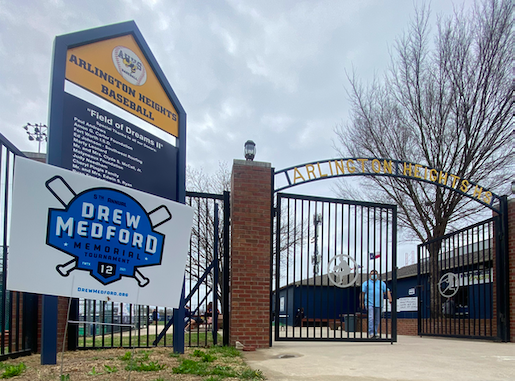 Medford was a varsity pitcher for the Paschal High School Panthers baseball team, who earned district MVP honors and was committed to play for TCU before he died in a car accident in 2016, the summer after his high school graduation. 
The tournament was brought to life by friends, family and the Fort Worth community who formed the board of the Drew Medford Memorial Tournament (DMMT). They are responsible for organizing the tournament, finding sponsors, making t-shirts and placing yard signs advertising the event around Fort Worth.
Stacey Henley is one of the parents who helped create the tournament. Her son, Blair Henley, a former University of Texas pitcher now with the Houston Astros, knew Medford personally.
The two played on the same baseball team throughout their teen years with the Fort Worth Cats organization and then against each other at rival high schools, Paschal and Arlington Heights.
Henley said that the DMMT was created from the annual rivalry between the Paschal and Arlington Heights baseball teams. The invitational tournament started with only six teams and now has grown to 20, with each team selected based on the ability of their baseball programs.

This year's tournament took place over three days at five participating high school fields: Paschal, Arlington Heights, Trinity Valley, Mansfield Summit and Mansfield Legacy. The final game of the tournament features Medford's alma mater Paschal against Arlington Heights.
Paschal and Heights would normally not get to play one another.
"Normally the 5A and 6A schools would not play against each other because of their sizes, but this tournament allows the historic Heights and Paschal rivalry to continue on while honoring the memory of Drew," said Drew Harris, the publicity manager of the DMMT and a former communications associate at TCU.
The scholarship ceremony is before the final game and presents all the recipients with their awards on the field.
The scholarships are funded by the sponsors of the tournament consisting of local Fort Worth businesses, organizations and families. Some sponsors directly relate to Medford, like University Little League, the Fort Worth Cats organization and the Fort Worth Aces organization.
"What makes this tournament different from other baseball tournaments is that it's not put on by a big corporation, it's put on by families, students and coaches," Harris said.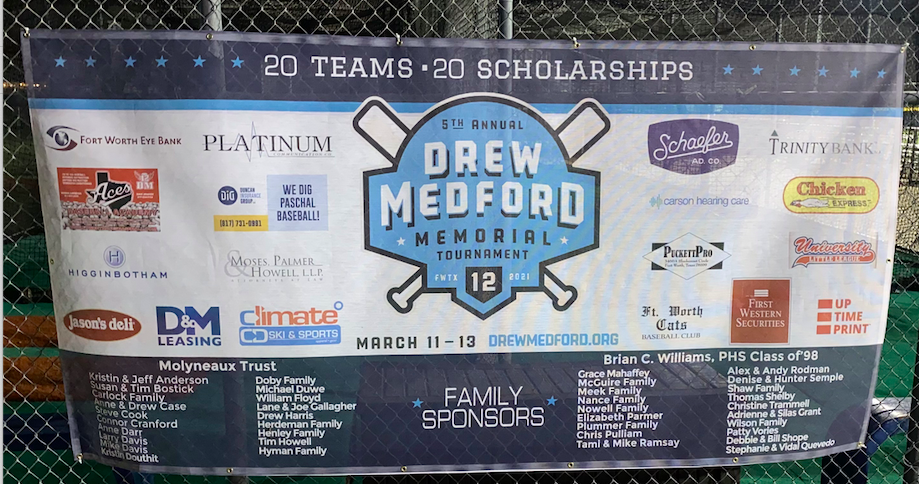 Aaron Biediger, a senior at Arlington Heights, received the scholarship and said that it was the most memorable event of the tournament.
"Hearing everyone cheer for me when they announced my name including my teammates and family was unforgettable," Biediger said. "They were so loud the announcer had to pause to let them calm down."
Biediger, who is continuing his baseball career at Richland College, said he was honored to find out he was the recipient and was grateful to his coaches, family and teammates.
The recipient for Lake Ridge High School, JD Moreno, echoed Biediger.
"This scholarship means a lot to me," he said. "It made me feel grateful knowing my coaches chose me and see me as the player that Drew used to be."
Moreno is committed to play at New Mexico Junior College and hopes to save his scholarship to help with future payments for when he transfers to a four-year university.
Both recipients plan to come back and attend the Drew Medford Memorial Tournament after they graduate from high school.