No. 4 TCU defeats No. 18 Texas 17-10, securing a spot in Big 12 Championship
No. 4 TCU improved to 10-0 after out-dueling No. 18 Texas 17-10. With the victory, the Horned Frogs solidified their spot in the Big 12 Championship in Arlington, Texas, on Dec. 3. They also improved to 8-1 when ESPN's College GameDay is in attendance.
This weekend, the temperatures weren't the only thing that went cold. The offenses of TCU and Texas were silent through the first half with the exception of a 34-yard field goal from senior kicker Griffin Kell that put the Frogs up 3-0 with 1:20 left in the half.
"It was kind of a strange game," said head coach Sonny Dykes. "I don't know if anyone saw the game going that way between two really good offensive teams."
Kell redeemed himself after his first field goal attempt was blocked. It was his first miss of the season.
Junior linebacker Johnny Hodges said he knew it was going to be a defensive game, but it didn't change their plan. To Hodges, the team just had to do their job.
"When you're doing that you don't worry about the offense," said Hodges. "And it just so happened that it was our time to shine."
The most impressive accomplishment for the TCU defense was holding Texas' star running back Bijan Robinson to just 29 yards rushing. It ended a 7-game streak of 100+ yards rushing for him. The last team to hold him to double digits was Alabama in week two when he had 57 yards.
"We're gonna enjoy it, of course," said Hodges on limiting Robinson's performance. "But we play Baylor next week and they like to run the ball too, so we have to move on."
TCU's senior quarterback Max Duggan gave credit to the Texas defense for their play, including sacking him a season-high five times.
"They did a great job of giving us different looks," said Duggan. "It caused me to sit in the pocket a little longer."
That put the offensive linemen in a tough position to protect him.
"I think that's why you saw a couple sacks," said Duggan.
Duggan was limited to 63 yards passing during the first half while Texas QB Quinn Ewers finished with 39. Ewers started the game 0-7 and threw an interception to senior cornerback Tre'Vius Hodges-Tomlinson before completing his first pass, a 3-yarder with 9:45 left in the first half.
At the end of the first quarter, the Frogs had 24 total yards and the Longhorns had a total of 15.
The offense never broke out for the Frogs like it had late in previous games. However, Miller, like last game, found a way to break the 100 yards rushing mark again. In the blink of an eye, the Frogs scored the first offensive touchdown of the game.
With 5:08 left in the third quarter, he broke through a hole in the Longhorn defense for a 75-yard rushing touchdown.
Kendre Miller made one cut and hit the paydirt 😤 pic.twitter.com/dcWoQfrxj4

— ESPN (@espn) November 13, 2022
"I'd seen the safeties come down," said Miller. "I just set 'em up and bounced out."
The rush put the Frogs up 10-0. Miller would finish the game with 138 yards. It's the sixth time this season he has tallied 120 or more yards rushing and his seventh with 100 or more.
TCU's only other score for the game was a 31-yard pass that Duggan threw to junior wide receiver Quentin Johnston, putting the Frogs up 17-3.
Max Duggan ➡️ Quentin Johnston!!! #GoFrogs pic.twitter.com/4EkB4NaWdS

— TCU Athletics (@TCU_Athletics) November 13, 2022
The Frogs got this opportunity after Texas was flagged for roughing the kicker, giving TCU a new set of downs and 15 more yards.
Johnston was questionable this week after being out last week against Texas Tech with an ankle injury. During warmups, he said he felt the energy of the crowd and knew what he had to do.
"We're gonna have to wrap it up, tape it up, whatever we gotta do," said Johnston. "I'm gonna play tonight."
Johnston caught three receptions for 66 yards and had one touchdown. Dykes and Duggan talked about the importance of him being back on the field.
"With his talent.. what he does with the ball in his hands or even when he doesn't have the ball it really affects what [the defense] does on their end," said Duggan.
"Critical plays in the game — Quentin [Johnston] is makin' 'em," said Dykes.
The Longhorns never got anything going offensively. In fact, their offense only scored 3 points from a field goal. Their other 7 points were scored on a Duggan fumble that was recovered by their defense and taken to the end zone. They added a successful PAT.
Texas also had more yardage in sacks (38) than the Longhorn offense had total yards rushing (28).
The Frogs could have been flustered by  late in the game,  but Miller told Duggan, "we good… stuff happens, we just have to stick to it and keep going."
It's the sort of calm and collectedness that TCU has shown all year late in games. This time, it gave them another win over a ranked opponent. The win was TCU's fifth over a ranked opponent, tying them with Tennessee for the most nationally.
Dykes also made team history, setting a new record for the most games won by a newly-hired head coach. With a record of 10-0, he officially passes Francis Schmidt, who went 9-0-1 in his first season. In that season, 1929, Schmidt beat Texas, also. It was TCU's first win over Texas in program history.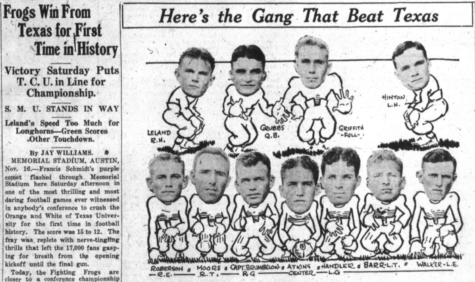 UP NEXT
The No. 4 TCU Horned Frogs will head to Waco next week to play the Baylor Bears. Kickoff is at 11 a.m. and the game will be televised on FOX.