Special teams, special connection: How Jordy Sandy and Griffin Kell's relationship blossomed
Punter Jordy Sandy came from Australia. Kicker Griffin Kell is a local talent from Arlington, Texas. TCU football brought them together.
Kell cemented himself in Horned Frog football lore after his last-second field goal against Baylor to keep TCU undefeated.
THE HORNED FROGS WIN!!!! 🐸 STAYING UNDEFEATED! @TCUFootball pic.twitter.com/MEYDSI1FT8

— FOX College Football (@CFBONFOX) November 19, 2022
It was another one of many moments that will be remembered as vital to TCU's magical trip to the national championship.
However, someone had to hold the ball so Kell could put it through the uprights.
Sandy is also the holder for field goals. He took the snap and held it steady for Kell.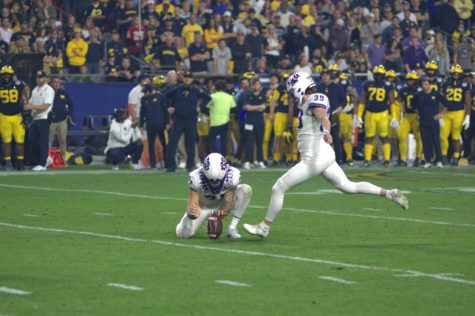 "I didn't even have time to think about it," said Sandy on his part in the Baylor walk-off field goal. "You just run out there and [do it]."
The two have built a strong relationship during their time at TCU.
In 2019, Sandy was a candidate for the Peter Mortell Holder of the Year Award. He gave credit to the kicker at the time, Jonathan Song, and Kell.
All credit to the boys for making me look good! 👀@JSong_18 @aortiz10_ @griffin_kell 🐸 https://t.co/VGWjUtj1KJ

— Jordy Sandy (@jordysandy31) November 16, 2019
The reliability of a holder is important when a kicker runs out for a field goal or an extra point. A mishandled snap could result in a missed kick or no kick. That would mean a scramble for yards or a fumble recovery.
Kell said he has "absolutely no doubts" when Sandy receives the snap and holds the ball for him.
They've had each other's backs.
I'll take @griffin_kell every time https://t.co/o2INo77ASH

— Jordy Sandy (@jordysandy31) June 8, 2022
That trust has led to good performance.
Kell is 17-19 on the season, one of which was from over 50 yards out. He had seven makes from 40-49 yards out and nine makes from 30-39 yards out.
The 40-yard walk-off field goal against Baylor was Kell's only attempt on the day.
"I haven't had great seasons, so this year has really helped my confidence," said Kell.
He has also been 61-63 on extra point attempts after the Fiesta Bowl against Michigan.
"It's been really cool to feel like we've had an impact in some games this year," said Sandy on the holding and kicking duo. "Griff made some big-time kicks and to be a part of that is absolutely special."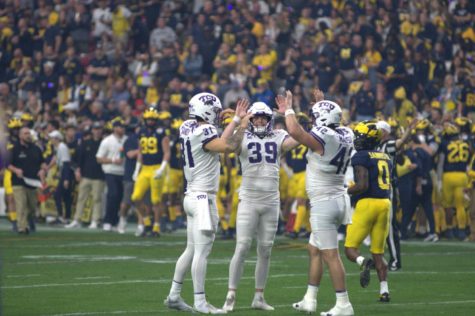 Kell attributed his success to TCU's special teams coordinator Mark Tommerdahl and head coach Sonny Dykes.
"[Tommerdahl] has helped me a lot with my confidence," he said. "That's one of the biggest things I've struggled with."
Tommerdahl has had that affect on Kell because of the trust and control that Dykes has in his staff.
"[Dykes] lets [Tommerdahl] run the show, so we go for it a lot," said Kell.
Kell added that Dykes' style of coaching is different than how he played previously. The old coaching style was more defensive, so there were more punts.
"[Dykes] trusts me to do my job and help the team," said Kell. "I always get excited when I go out there for a long field goal."
Kell and Sandy have collaborated on the field. Recently, they've grown their relationship off the field, too.
"We've been here the same amount of time, so we've grown really close," said Kell. "We've played a lot of games together, practices, watched film, now we live together and play golf."
Kell was excited to meet Sandy's family, who he said were all great people.
He's also learned about Sandy's Aussie culture.
"We say heaps, which just means a lot," said Kell.
Sandy laughed and reminded him of some other words he taught his roommate.
Sandy was originally committed to Texas Tech before a coaching change influenced him to switch to TCU. Kell said he didn't know how his season would have gone without Sandy as his holder.
"It was pretty crazy how it all worked out and I'm grateful for it," he said.
Kell played high school football for Arlington High School, which is 19 miles from TCU's campus.
"I kept my head down, worked hard, kicked a lot and got blessed with an opportunity at TCU," he said.
Sandy grew up playing Australian rules football in his home of Traralgon, Australia. He attended Prokick Australia academy, where he learned to punt "American-style." After working in construction and a paper mill, he committed to play at TCU.
— Out of Context TCU (@nocontextTCU) January 6, 2023
The two teammates-turned-roommates and golfing partners said the same thing about their friendship: "Our relationship has grown a lot."