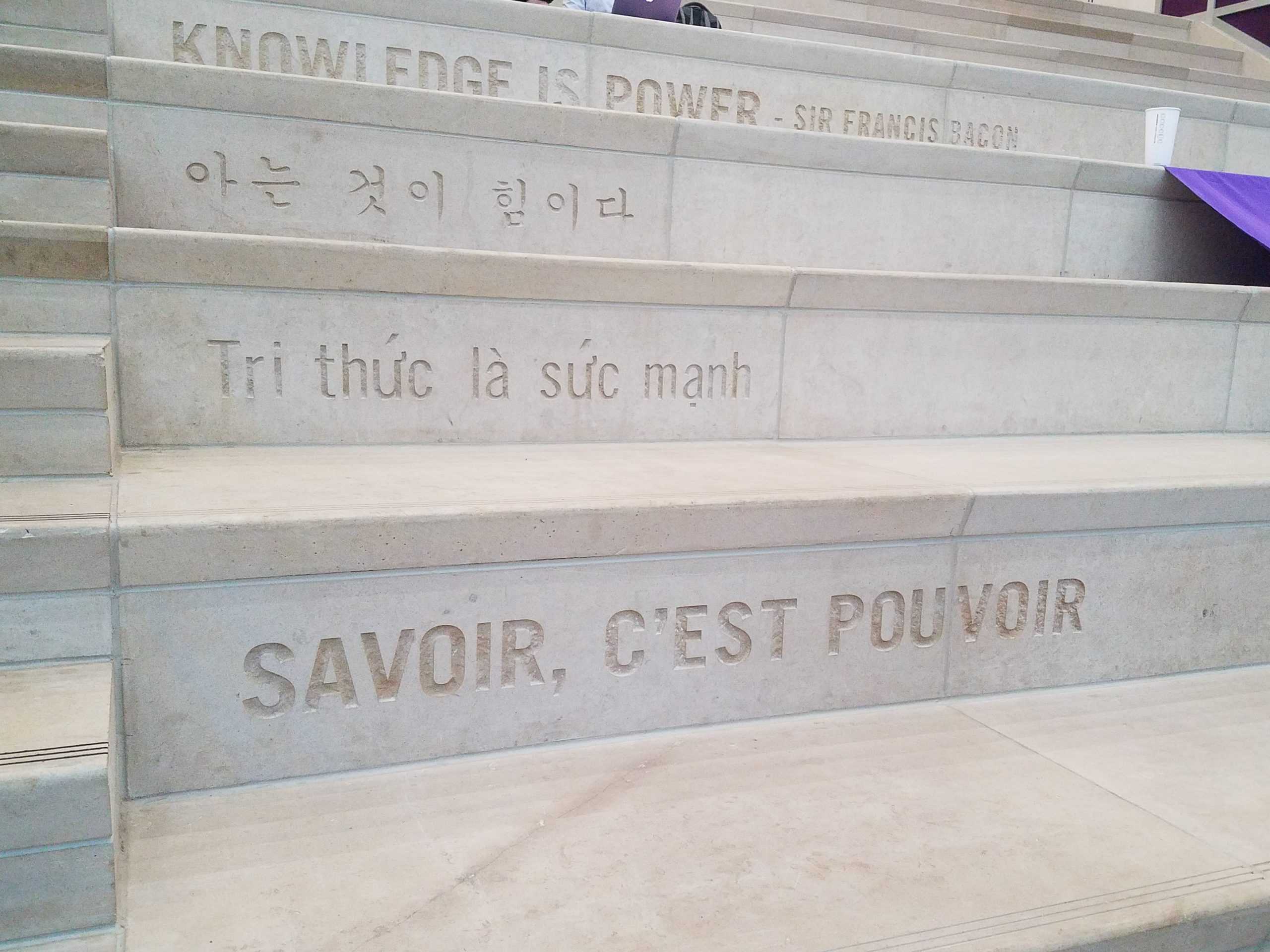 Students studying abroad must face cultural differences when living in a different country, but TCU international students are finding ways to deal with cultural differences.
When sophomore social work major Nasrallah Alkhabi left his native Saudi Arabia to enroll at TCU, he faced a lot of adjustments – he even had to look at his passport and copy his name down repeatedly because he couldn't write his name in English.
According to the international student website, one of the most common challenges for students studying abroad in the U.S. can be culture shock.
Students can experience a variety of culture shock symptoms, such as sadness, loneliness, melancholy, preoccupation with health, changes in sleep, changes in mood, loss of identity, lack of confidence and longing for family, according to the website.
Factors that contribute to culture shock are climate, language, social roles, rules of behavior, values and relationship stress, according to the University of Washington Counseling Center website.
John Singleton, International Services director, said culture shock does affect some students when they come to TCU.
"Our best students, who graduate with the most accolades, confirm that they went through [culture shock] so we are certain it is impacting everyone," he said. "That is really tough, that isolation from family and all the things that they held dear."
Raavi Baldota, sophomore strategic communication and modern dance double major, said she was expecting culture shock but was very prepared when she came.
"It didn't take a lot of time for me to adapt at all," she said. "I came really prepared. It is a little different, but the only kind of difference I have found is in the food. The kind of food that I eat back home is a different cuisine all together, but it was easy for me to actually come down here to Texas because the kind of palate that we have, the taste palate, the kind of spices that they use is very similar to Indian [spices]."
Janvier Rutsobe, junior business major, said the Bridge2Rwanda program helped prepare him for what to expect during his time abroad before coming to the U.S..
"They will tell us things like don't tell someone that they gained weight, which is really something that might be good to some people in our culture, but it is definitely not good here," he said. "Bridge2Rwanda did a great job to prepare us. When I came to TCU, it was a quick transition, but, at the same time, I had some kind of notion of how it was going to be."
Rutsobe added that he doesn't get as homesick as he would have if he didn't have friends and family at TCU.
"Having friends here removes that layer of feeling alone because when I'm alone, that is when I start thinking about home," he said. "That is when I start missing people back home, but when I'm around friends, it's like I have another home. There is that bond that really keeps you active within the community."
Alkhabi said it has been a completely different experience studying for his second degree in the U.S. than when he was studying for his first degree back in Saudi Arabia.
"In the schools, you can't find boys and girls at the same place studying together," Alkhabi said. "Boys have their own school that is only for boys and [a school] only for girls. Most of the time, the men teach the boys and the women teach the girls. Gender separation is one of the things."
Rutsobe said the education system is different in Rwanda, where the only information a student needs to know is the notes the professor prepares and hands out.
"It was very different when I came here," he said. "Yes, the professor will write something on the board, but not everything. Yes, he would hand out some stuff, but you have to read for yourself other stuff. I had to adjust. I expected it, but it was a little bit too much. I'm now used to it."
Baldota said TCU has been very different from Indian colleges.
"One of the main differences that I have found moving here is that I can actually go and talk to a professor personally and privately about any problem within or outside of class, which is not a thing back home," he said. "Office hours don't exist back home."
Baldota added that at Indian universities, there is not as much concentration on extracurricular activities and sports in comparison to academics.
"It's sad; it's quite sad," she said. "You need a well-rounded student, more than just an academically excellent student [who] can't really do well at any other activity but that. You are not giving them a holistic development."
Singleton said there are a number of things that have surprised students about TCU – from strangers smiling at strangers, to a lack of urban transportation, to pop quizzes and required class attendance and easy access to faculty.
Baldota said something she has found strange about TCU is the sorority and fraternity life aspect.
"I didn't understand it," she said. "When I got here, it took me a while to understand it."
Rutsobe said another thing that surprised him was the sorority and fraternity life since it something that doesn't exist in Rwanda.
"I didn't know anything about rushing or Greek life," he said. "It's something new, something strange."
The international student website recommends students research American culture before arriving in the U.S. to minimize the shock. The site offers suggestions for students dealing with culture shock:
Keep in touch with friends and family back home.
Eat a healthy diet with foods you know.
Maintain contact with people from a similar culture.
Keep items with you, such as photos.
Find activities where you will find other students who share the same interests as you.
Find out what services your campus offers to help students deal with culture shock.
Alkhabi said international students should use the TCU Counseling and Mental Health Center, call their family and have a talk with someone who is from the same country to deal with homesickness.
"Find someone from the same country," he said. "Sometimes you cannot express that in English; you need someone to talk to in Arabic or your own language is helpful."
Singleton said the two-day international orientation is designed solely to prepare students for dealing with culture shock where students can decide which workshop they would like to participate in.
"In orientation, we bring in students, we bring in faculty who have lived abroad and we do programs," Singleton said. "We do it in a workshop setting. We design most of them as a panel, so that the students can talk back and ask questions. Often there are lots of international students on those panels so the students can have conversations with international students."
Rutsobe said the international orientation was a great starting point for him because he got to know other international students who became his first friends.
"We [went] to the commons and played football, which is soccer," he said. "That was a bonding moment where we were building relationships. We were networking, so it helped me get into the mood of college and how to get around."
Rutsobe said another step that helped him acclimate was going to Frog Camp Summit, which allowed him to build more relationships with TCU students.
"You get to relate to people," he said. "We are building relationships and if I see someone in class, I'm going to say hi. If we are in the same class, and we already met at Frog Camp or Orientation, I'm going to ask you if you want to be study buddies. It came from being a social relationship to an academic relationship."
Rutsobe added that American football was something that was very different for him and had never heard of it.
"It was different," he said. "I didn't like that feeling of everybody hitting each other, but once I got to learn the rules, I started enjoying it. The sports here are different."
Alkhabi said he initially didn't like football that much during his first semester because he didn't understand it, but at the same time he learned the rules of the game.
"I like it now," he said. "It was a new thing for me because you will not find it that much in the Middle East. When I learned about it, I found it is interesting. Most of the games, I watch them."
Singleton said the Center for International Services office came up with a program to help international students understand American football.
"We came up with a program in orientation where we go through football anthropologically," he said. "We put [the students] in uniforms. We go through everything. We talk about the game, the tailgate, [and] the culture of football, so they don't feel weird when for the first week [of school] everybody is talking about football. They are able to converse."
Singleton added that the office follows the students during the first year to check how they are doing.
"The only other thing we do with them is we reach out a couple of times in the first year to see how they are doing academically," he said. "We follow how they are doing in class. If a student has more than one class failing at that point, then I'm going to call them up."
Alkhabi said he overcame some of the difficulties of studying abroad through the TCU Intensive English program, conversing with American students and listening to speakers who visit TCU.
"When I think about it now, I can write a lot of essays," he said. "I still need some help. I still go to the [TCU] Writing Center. I ask them for help to correct my grammar and some of the words. It's interesting to see yourself grow."
Rutsobe said advice he gives to future international students is for students to join organizations, but to be mindful on the amount of them.
"Join organizations, they will help you get new friends, get around easily," he said. "But then again, limit them. Take full advantage of the resources here at TCU."
Alkhabi said future international students should learn about the culture before arriving since this is a mistake he made.
"International students need to know more about the school they are going to," he said. "I didn't know that much, but then I got to know about TCU. I love it."
Alkhabi said international students must stay strong through the hard times and don't be ashamed of yourself as an international student, which he even still has sometimes.
"It's not easy, I feel that," he said. "They will be OK. They're going to pass everything, they're going to learn and they're going to have a great experience learning about the American culture and schools."
Rutsobe said he is thankful for TCU making him feel at home, and how he has access to a variety of resources whenever he needs something.
"TCU and the International [Services] office do a really great job of making us feel at home," he said. "There are many resources out there that I take advantage of that help me get comfortable at TCU. There is always someone I can talk to if I have a problem."