TCU soccer's Lauren Kellett named Big 12 Goalkeeper of the Week
For the second time, TCU goalkeeper Lauren Kellett has been named Big 12 Goalkeeper of the Week.
Over five games, Kellett has held opponents to one goal. She is tied for the second-highest number of shutouts in the Big 12 Conference.
Last week against Oklahoma State, Kellett had three saves and finished the game with her sixth shutout of the season.
"She's pretty steady in the back," said head coach Eric Bell. "Her concentration level has been very good."
Kellett earned the 2021 Big 12 Goalkeeper of the Year and continues to prove her dominance on the field this season. The goalkeeper leads TCU's program in goals against average. Additionally, she is third in the Big 12 with a .810 save percentage.
In case you missed it: TCU vs. OSU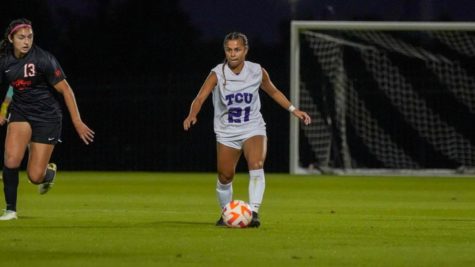 The No. 10 Horned Frogs remain unbeaten in the Big 12.
In the first half, TCU outshot the Cowboy's 9-1. In the 16th minute, Camryn Lancaster scored a penalty kick to give the Frogs an early lead.
"We possessed the ball, created scoring opportunities and didn't give up a lot of opportunities defensively," Bell said.
The first half ended with a diving save from Kellett to keep the Cowboy's scoreless.
TCU continued to control the ball in the second half. In the 72nd minute, forward Messiah Bright returned a free kick for a goal, extending the Horned Frog led to 2-0.
In the final minutes of the game, forward Tyler Isgrig converted a penalty kick to give the Frogs a 3-0 lead.
"I felt we rose to the occasion and sealed the game away," Bell said about the second half play.
Looking ahead
The No. 10 Horned Frogs play Oklahoma (7-5-3) in Norman, OK tonight at 7 p.m. The game will be broadcasted on ESPN+.