TCU President Pullin hosts meet-and-greet
TCU President Daniel Pullin took the time to meet informally with faculty and staff on Feb. 9, 2023.
Sporting his signature purple Chuck Taylor Converse sneakers, new TCU President Daniel Pullin met with faculty and staff members on Feb. 9, 2023 in the atrium of Rees-Jones Hall.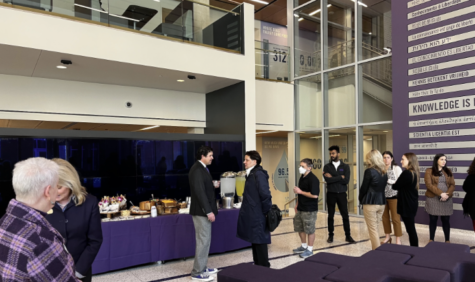 As the first modern-day TCU president, Pullin said he plans to lean on the "traditional academic leadership experience" he gained from his time as dean of the Neeley School of Business. He said he relies on his relationships with faculty and staff, as well as his ability to "understand the knowledge and thought leadership that they can both create and provide to our students as well as broader communities."
Pullin stepped away from his duties with Neeley when the university named Hettie Richardson as interim dean. He said it was important to maintain a smooth transition of leadership. 
His new role consists of maintaining the campus environment, working with the cabinet and vice chancellors, supporting faculty, keeping facilities operating efficiently and ensuring student success by smoothly running operations at Texas Christian University.
"We've built such momentum in recent years in the business school that I didn't want anything to get in the way of that continued progress," Pullin said. 
Pullin, who continues to teach at the graduate and undergraduate levels, said students are a priority.
He said students are TCU's "ultimate instrument of our impact." 
Pullin said that since coming to TCU, it has been important to him to understand the student perspective, listening to and learning from Horned Frogs. He values student voices and connects with students inside and outside the classroom. He will meet with any TCU student who wants to set up a brief meeting to talk.
President Pullin will host another meet-and-greet at 10 a.m. Thursday, February 16 in the University Recreation Center lobby.