Students voice opinions on increased student body fee
It's been over 10 years since TCU students approved an increase in the activity fee paid every semester to underwrite entertainment and student organizations.
Over the years, student fees have helped pay for acts such as Macklemore in 2016, Flo Rida in 2021 and Kesha in 2022. Additionally, students in academic, extracurricular and sports clubs apply to receive funding from SGA every semester.
SGA has proposed doubling the student body fee to $90 per semester. Students have the option to vote later this month. If there is a majority vote in favor of the change, the matter will move to the board of trustees who have the final say.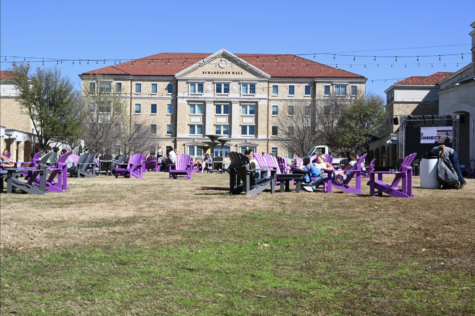 Students' thoughts
Students taking a break in the Campus Commons Tuesday had mixed reactions to the proposal.
"What's 45 more bucks?" said Zac Dawson, while lounging in a lawn chair. He and Kenzie Sloan, both first-year pre-business majors, said they were in favor of the increase.
Others were not sold on the increase.
"It's not worth increasing," said Aiden Murphy, a first-year pre-business major.
Dylan Murray, also a first-year pre-business major, jumped into the conversation with Murphy.
"$90 is a lot compared to $45," Murray said.
Most students had not heard of the proposed increase, but many said they would support it since the money would go toward clubs around campus.
Tess Elger and Katy Bell, first-year business majors, were tanning in the Commons as they shared their support of doubling the fee.
Bell said she would support the increase, "if it's going to organizations that need the funding."
The first-year student also believes that the fee would improve student experience.
The fee would be "beneficial to us and makes sure we have a great time on campus," Bell said.
Students at the Mary Couts Burnett Library also shared their thoughts on the increase. 
"Some people don't go to concerts and aren't involved in clubs," said Caroline Rudicile, a first-year interior design major.
Marissa Silva, a first-year strategic communication major, also does not support the proposal.
Senior marketing major Gemma Vu said she supports the increase, in part, because of the annual SGA concert. 
"They are going much bigger than they used to before," said Vu, who said she doesn't even remember the concert from her first year. 
"I think that, especially in recent years, TCU has invited so many popular people like Kesha and Flo Rida," Vu said. 
Vu believes it is fair to adjust the fee due to inflation and tuition increases.
Students gathered outside between the library and Rees-Jones Hall to study, and shared their perspective on the topic.
Avery Wazenried, a sophomore finance major, said she would rather spend more money to get better dining options. 
Molly Warden, a sophomore finance major, explained that she would rather her $45 go toward "something else that's just as fun, but maybe not as expensive." 
Megan Kraus said she is responsible for paying her fees, so she does not want to spend more.
"Money is tight," said the first-year music education major, and added that she is not involved in many student organizations that would benefit from the increase.
Emmanuel Ogwo, a senior communication studies major, said he is for the increase since it benefits the university.
"It's not like they tripled it," Ogwo said.
He added that the fee should be waived for minority students who come from middle-class or lower-class incomes, or people who are on full-ride scholarships.
Brennan Hartley, a first-year interior design major, also said the increase is not too big of a jump. Hartley said she appreciates the effort that SGA puts into the concerts, and she said she thinks the increase is well-intentioned. 
Music education major Manny Arellano ran a student organization for a while, and said he thinks the increase is "a nice idea." Arellano, a senior, shared that before he could fully support it, he would want assurances that the money would go toward student organizations. 
Students can vote on the matter by email during student body officer elections on Friday, March 31 from 8 a.m. to 10 p.m.