Plan your graduation weekend: Top places to visit in Fort Worth
Fort Worth is home to many attractions that embrace its Western pride. On graduation weekend, there is something for everyone to enjoy in Funkytown.
Museums
Fort Worth has a trio of art museums, each representing a different age or take on the art world. 
The Amon Carter Museum of American Art is coming off a year of celebrating its 60th anniversary. Current exhibits include Speaking with Light: Contemporary Indigenous Photography and Stephanie Syjuco: Double Vision. The museum switches out its own collections for its galleries on a yearly basis. Exhibits include works of both contemporary and historical art, with collections of photographs as well.
The Kimbell Art Museum is free to attend unless you want to view the special exhibition. While it is a smaller gallery, the Kimbell includes sculptures, as well as traditional-style paintings. 
The current special exhibit at the Kimbell is called Murillo: From Heaven to Earth, celebrating Spanish painter Bartolomé Esteban Murillo. Murillo depicts the life of ordinary people living in seventeenth-century Seville, Spain. These works will be on display until late January 2023. 
The Modern Museum of Fort Worth features contemporary works from the 1940s. Designed by Japanese architect Tadao Ando, it is named one of the "World's Most Beautiful Art Museums" by Travel + Leisure magazine.
The Modern has paintings, sculptures and films. General admission cost is $16.  Admission is free on Friday and half-off on Sunday. General admission provides access to the galleries as well as the two special exhibitions on display– Modern Masters: A Tribute to Anne Windfohr Marion and I'll Be Your Mirror: Art and the Digital Screen.
All three museums also provide a food option for quick snacks.
Outdoor Experiences
The Stockyards is the full Texas experience. Whether it's smokey BBQ at Risky's or witnessing country line dancing at Billy Bob's, Fort Worth locals and visitors are in for entertainment. 
Billy Bob's Texas hosts a variety of events and concerts at their venue. Country line dancing is offered every Saturday at 12 p.m., and live country music can be heard almost every Friday or Saturday. 
The stockyards also host the cattle drive every day at 11:30 a.m. and 4:00 p.m.
The Cowtown Coliseum hosts the Stockyard Championship Rodeo every Friday and Saturday night. 
Fort Worth Botanic Gardens is the oldest major botanical garden in Texas, offering 120 acres of 2500 different kinds of flora and plants. The gardens are also home to the Botanical Research Institute of Texas and the Philecology Herbarium.
General admission is $12. The gardens include displays on pathways, educational stops and different areas with specified plants so every visitor can walk away having learned something. 
This holiday season the Fort Worth Botanic Gardens will host: "Lightscape". Starting on Nov. 18, this event will include a mile-long path filled with Christmas light tunnels, a fire garden and seasonal drinks such as hot chocolate just to name a few things to look forward to. 
The Fort Worth Zoo also celebrates its 30th anniversary. Located just minutes away from campus it is home to 7,000 animals and 550 different species. 
For immersive experiences with some of the residents, visitors of the zoo can feed the giraffes, touch the stingrays or stop by the Outdoor Learning theatre. 
If a friend or family member needs proof the horned frog is a real animal, the TCU mascot can also be seen. 
The zoo partnered with TCU, as well as Texas Parks and Wildlife, to help this reptile be released into the wild and restore the threatened species population. This year on Sept. 15 they were able to release 150 hatchlings, 115 from the zoo, at the Mason Mountain Wildlife Management Area.  
Rooftop Cinema Club Fort Worth allows you to relax, but it isn't  your regular movie theatre. Located on the Worthington Renaissance, moviegoers can watch classic and current movies every night. 
It is a drive-in movie without the cars, themed to be a suburban backyard with lawn chairs, street-style food, and fake grass. 
Ticket holders will also be given headphones to wear during the movie to enhance the audio and drown out the city noise. 
Photo Stops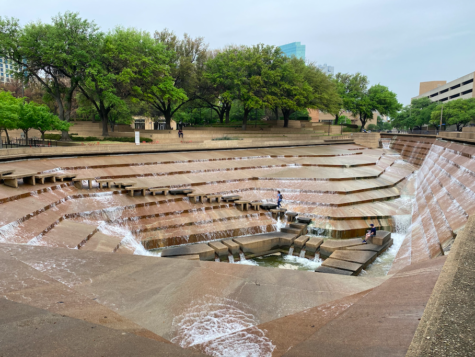 The Water Gardens is a staple for Fort Worth. Designed by Phillip Johnson, the water gardens offers many spots for some great photos. 
The main attraction is the reflecting pool set below 22-foot high walls, with water trickling down the sides. Visitors are able to make it close to the bottom through the built-in staircase. 
There are also steps that they can climb as well to snap a picture with the city skyline in the background. 
Fans of street art can find many hidden gems close to TCU sprinkled throughout the cultural district. 
Along the Trinity Trail, there is an impromptu gallery called 'Painting the River'.
Designed by Arnoldo Hurtado, Noel Viramontes and Ricky Cotto, Trinity Art Court is one of the featured stops. This piece is a fully painted basketball court that expands underneath the walking bridge. 
Located nearby is the #ForFortWorth mural, done by Mariell Guzman features street art that captures the spirit and symbols of the city on 7 City Church.